Description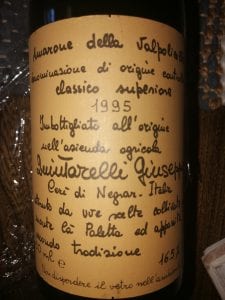 Giuseppe Quintarelli is a legendary estate located in the hills north of Verona in the heart of the Valpolicella appellation. It is regarded by many as the greatest of all Amarone producers, and is known for its traditional deep, complex wines packaged with distinctive handwritten labels. The great man Quintarelli himself, known as il Maestro del Veneto, died in 2012 aged 84 but the winery remains family-owned and managed.
The Amarone wines, the Recioto, and the Valpolicella ClassicoSuperiore all have a similar blend of around 55 percent Corvinaand Corvinone, 30 percent Rondinella, with the remaining 15 percent comprising of Cabernet Sauvignon, Nebbiolo, Croatinaand Sangiovese. The various wines are drawn from the across the entire vineyard, and require multiple passes at harvest time.
As is the case outside the Classico boundaries, the principal grape variety is Corvina, backed up mainly by Corvinone, Rondinella and Oseleta.
All Amarone wines are made using the appassimento technique. Grapes are partially dried, gently pressed and slowly fermented. They must spend at least two years maturing in wood.
Amarone wines from the Classico zone tend to be the most elegant and aromatic. Those from Valpantena are generally lighter and fruitier. Bottlings from the extended Valpolicella region tend to be fuller bodied and more aromatic.