Description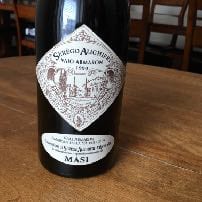 Serego Alighieri is an Italian wine producer located in the Valpolicella Classico zone of Veneto. It has been in collaboration with well-known Veneto wine producer Masi Agricola since 1973, and is perhaps best known for its classic examples of regional wines including Amarone della Valpolicella, Recioto della Valpolicella, and Valpolicella Classico Superiore.
The historic estate was purchased in 1353 by Pietro Alighieri, son of the renowned Italian poet Dante, and has remained a part of the Alighieri family for 21 generations. Winemaking has taken place uninterrupted on the estate since the 1500s.
Vineyards surrounding Serego Alighieri's large villa estate are planted to native varieties such as Corvina, Rondinella, Molinara, Negrara, and Oseleta. The estate includes a large cellar for wine maturation in cherry-wood barrels and lofts where grapes are left to dry on bamboo racks for regional winemaking processes.
The flagship wine, Vaio Amaron, is produced from the varieties Corvina, Rondinella and Molinara grown on the terraced Vaio Amaron vineyard. The Amarone is made by the traditional appassimento process whereby grapes are dried for three months before being pressed, vinified, and aged in Slavonian and cherry-wood casks for almost five years.