Our Story
 "Education is the most powerful weapon which you can use to change the world." – Nelson Mandela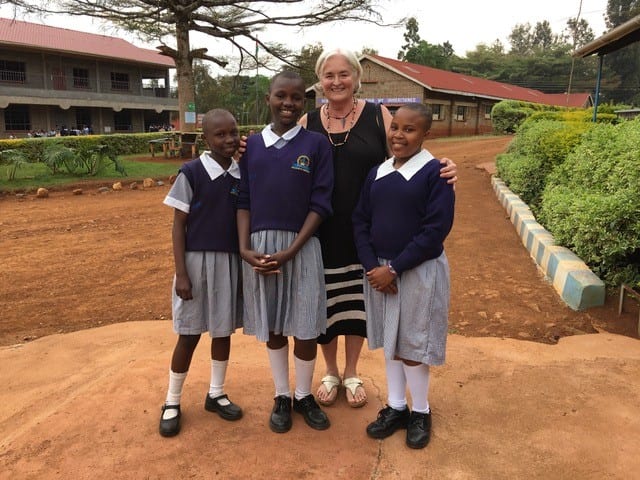 Message from our founder, Debra Weller
My 2009 trip to Kenya ignited a passion in my soul as never before. There, in the village of Kianyaga, a rural community that sits at the foothills of Mt. Kenya, I visited a tiny orphanage known as the Peaceful Children's Home.
I immediately fell in love with a wonderful woman who founded the home in 2007 and the children who are the beneficiaries of her caring. I learned that this would be the only home the children would likely ever know because of the stigma associated with adoption there.
It was in that moment I decided to take this journey with Agnes Njogo, and help her to carry on her life-changing work. Once back home, I shared this remarkable story about a woman in her 50s who was raising the children as her own. Agnes was providing a non-institutional, safe and nurturing environment where they all could live as part of a family.
It takes a village with a heart to raise a child. I began raising funds for food and basic needs and was overwhelmed by the support that flowed from family, friends and perfect strangers. In 2010, with the help of co-founder John Carbone, Global Strides was registered as a Canadian charity and our work began. The children living in the home grew to 14, up from eight when Agnes first opened her doors. Your generous support has made it possible to put food on the table and provide for the children's basic needs. From the bottom of our hearts, thank you. We were making a difference, and we couldn't help but wonder what more we could do to give the children the best chance to make a life for themselves and, in turn, help others in their community.
Nelson Mandela said: "Education is the most powerful weapon which you can use to change the world." With these inspiring words in mind, we expanded our work in 2014 to include an education fund. The goal? To help raise children out of poverty, inspire them to succeed, and enable them to become contributing members of society. In summer 2017, myself and two Global Strides' board members spent precious time with the children and visited them at their respective schools. We witnessed first-hand the positive impact of their learning. The children greeted us warmly and introduced us as their Canadian mothers. Indeed, our children were thriving and excelling. With your generous support, Global Strides Charity will continue its work of feeding the body and nourishing the mind so all children can reach their full potential.
208 Sherwood Pl. Newmarket, ON L3Y 8E5
Global Strides Charity
Mailing Address
14 Broadfield Dr., Etobicoke , Ontario
M9C 1L6

Registered Canadian Charity
# 812167658RR0001