Description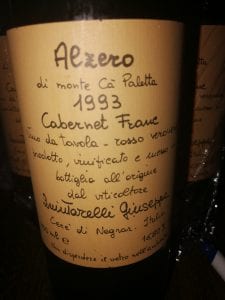 Giuseppe Quintarelli is a legendary estate located in the hills north of Verona in the heart of the Valpolicella appellation. It is regarded by many as the greatest of all Amarone producers, and is known for its traditional deep, complex wines packaged with distinctive handwritten labels. The great man Quintarelli himself, known as il Maestro del Veneto, died in 2012 aged 84 but the winery remains family-owned and managed.
Another cult wine, gaining some of the highest prices achieved by Italian wine, is the Alzero, a blend of Cabernet Sauvignon, Cabernet Franc and Merlot. Again made only in the very best years, it is made from dried grapes like the Amarone.
This wine was first produced in 1983, and production remains unbroken because no vintage was ever skipped. These are the first grapes to be picked in September. After harvest, the grapes go through two or three months of appassimento and up to nine years of aging in large oak casks. Indeed, the winemaking process used here is identical to that of the Amarone, only this wine maintains a more international identity thanks to the grape varieties used. Dark plum, blackberry and raisin intermingle with spice, tar and tobacco.