Description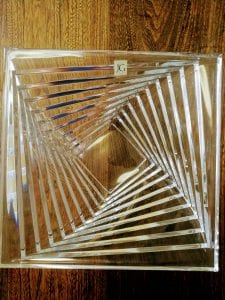 Prisms of captured light live in the steps of this beautiful
bowl. Evocative of the Art Deco movement, eschewing the
preciousness of the Victorian Era. Defined by clean lines and
modern design. This unusual bowl makes an outstanding centerpiece
or the ultimate wedding gift. Where ever this bowl lies it
invites conversations and gasps of amazement and curiosity.
Endlessly fascinating, watch as light plays on the surfaces of
this work of art. This is a beautiful and unique crystal bowl
was designed by JG Durand. And as the pattern is discontinued has
become a rarity.
This one is in amazing condition and ready to amaze and delight
you.
Size is 11.25″ x 11.25″ x 4″